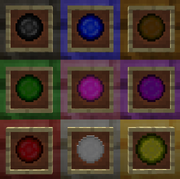 Eldunari means 'heart of hearts' in the ancient language and is a crystal-like body organ of the dragons.
When a dragon is killed, the Eldunari will be left behind. It will match the color that the dragon was.
Currently they serve no purpose in the mod.[1]
Future Ideas for Usage
Edit
Energy link between owner and dragon, usable for magic[2][3]
Using it as a communication link between you and your dragon[4]
Used for developing or transferring a dragon's personality after it dies.
References
Edit
Ad blocker interference detected!
Wikia is a free-to-use site that makes money from advertising. We have a modified experience for viewers using ad blockers

Wikia is not accessible if you've made further modifications. Remove the custom ad blocker rule(s) and the page will load as expected.